When William Couper arrived in Norfolk it was a bustling shipping town. He immediately set up a business providing supplies to the many ships, and as this business grew, so did his family.
Many years later William's son John obtained a small Leather Bound Book while on a trip to Dundee, in 1896, that was written by his grandfather William in Longforgan, . This described the family business in Scotland as growing flax, and weaving this into linen. This book was later analyzed by Monroe Couper in 1976, and the transcript is located at the link here. After arriving in Norfolk, Virginia, William Couper established a business providing supplies to the merchant ships. His son, John Diedrich Couper, started the family business, The Couper Marble Works existed for over 130 years; from 1848 to 1942 as the Couper Marble Works, and from 1942 to 1981 as Couper Memorials. [All business papers donated to the Virginia Historical Society]. The business was originally very successful, due in part to the many victims who died of yellow fever in the 19th century, where families would order many tombstones. In fact, William had four wives, due to their early deaths during yellow fever outbreaks (see Genealogy Chart A).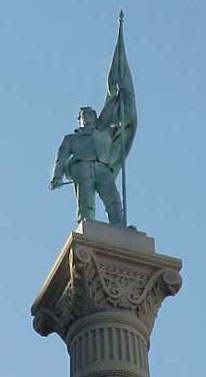 It was in the marble yards that John's son (William's grandson), also William Couper (1853-1942), was introduced to carving while watching Italian craftsmen make the grave markers. William later went on to become a noted American sculptor, and made the Confederate Monument in downtown Norfolk, as well as over 200 other works. The Couper family home was on the corner of Freemason and Cumberland Sts, Norfolk, VA. The Couper Marble Works were at 617 Fairfax Avenue. The house was sold in 1951.